PROVIDENCE – (Source: The Providence Journal)
By ROBERT LEE
Journal Sports Writer
This is a story that could have been written by a Hollywood screen writer.   But it wasn't. It's a true story about a kid who grew up playing soccer, the most popular sport in the world.  It's a story about a kid who followed his dream of one day playing for his hometown pro soccer team, and then turned that dream into a reality.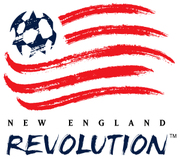 It's Nico Colaluca's story. On May 6, the New England Revolution, the team that the 23-year-old Colaluca watched growing up, acquired the talented midfielder in a trade with the Colorado Rapids for Generation Adidas defender Rob Valentino, making Colaluca's life-long dream come true.
"It's great just to be back home and have my family and friends around me and they can come and watch me whenever," said Colaluca. "It has been a while since they've been able to do that because I was in Virginia and then Colorado for a couple of years. That's where I began my MLS career but now that I'm only 30 minutes from home they can come and watch me whenever they want."
The trade came as a complete surprise to Colaluca. "I just went in for training like it was a regular day and coach (Gary Smith) called me into his office," Colaluca said. "I had no idea what it was going to be for and he told me I was going to get traded. I was excited because I needed a new start and then he told me where it was to – back to New England – and I was in my glory just to come back home and play for New England, the team I always watched growing up."
Colaluca said that he was hoping to get a new start this year with a new team, but never dreamed that it would be with the Revolution. "I started well my rookie year going with the coach that drafted me (Fernando Clavijo) but then he got fired and a new guy came in (Smith) and we didn't really see eye-to-eye, so it was frustrating there. It's a new start here and I'm trying to take full advantage of it."
Colaluca's story started in Providence, where he was born. He discovered his love and passion for soccer while playing in youth leagues all over the state.  The first team he played for was a team in Coventry that his dad coached.  He was four.
He was on track to becoming a soccer star long before his legendary career at La Salle Academy. When he was nine, Colaluca was selected as the top player in the state for the U.S. Under-12 pool. He then began playing in the Rhode Island State Olympic Developmental Program when he was 10 and followed that up with a spot on the Regional Team and then the National Team.
Colaluca had one of the greatest high school careers in Rhode Island soccer history while playing at La Salle.  He was a four-time high school All-American, three-time first-team All-Stater, and two-time Rhode Island Gatorade Player of the Year.  He led the Rams, who had never won a state title, to four consecutive titles, including his senior season in 2003 when the Rams went 23-0 and were ranked fifth nationally. He was named as the National Soccer Coaches Association/Adidas national high school player of the year as a senior.  High school careers don't get much better than that.
"That was great," Colaluca said of his high school career. "My brother was the goalie there so he was in goal and I was up top. We won four state championships there. It was a great experience."
While many of his teammates were playing other sports during the soccer off-season, Colaluca wasn't. It was a year-round sport for him. He attended the prestigious IMG Academy as a member of the U.S. Soccer Residency Program, and he was a member of the U.S. Under-14, 15, 16, 17, 18, and 20 National Teams.
Rated as one of the top recruits in the country after leading Division I in scoring both as a junior and senior, college scouts from near and far flocked to Rhode Island to see him. He was recruited by North Carolina, Duke, Connecticut, Boston College, Providence College, Wake Forest, and the University of Rhode Island to name a few, but In the end, he chose the University of Virginia.
At UVA, Colaluca amassed 11 goals and 17 assists in 61 games before forgoing his senior season to turn pro at the age of 20. He notched seven goals and 10 assists to earn second team All-American and first team All-ACC honors during his junior season to help the Cavaliers reach the semifinals of the ACC tournament and the Final Four of the NCAA championships. "It was just unreal to play for Virginia," Colaluca said.
Colaluca is still developing, but pro scouts saw his potential. He was drafted sixth overall of the 2007 MLS SuperDraft by Colorado, and even though he only made four appearances with the Rapids his rookie season, Colaluca started all nine of the Rapids' reserve team's games in 2008, scoring three goals.
Now he is getting his new start with the Revolution, a team he trained with for two summers while he was at La Salle.
"It's going to take some time to find my place here," Colaluca said. "I knew I wasn't going to come here and play right away. Every day I'm working at it.  I'm doing what the coaches ask and finding my way into their system."