LOS ANGELES (Source: Release)
adidas, MLS W.O.R.K.S., Major League Soccer's community outreach initiative, and FieldTurf were joined today by international soccer stars David Beckham and Zinedine Zidane to announce the "Footprint Fields" donation program, which will help develop new FieldTurf soccer fields in urban locations and communities in need across the country.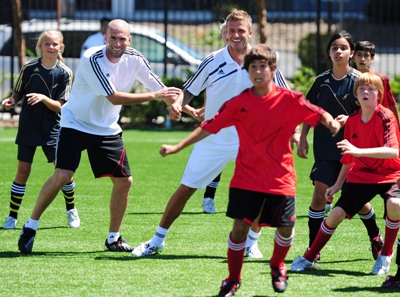 "The 'Footprint Fields' program is designed to encourage soccer players of all levels and backgrounds to pick up a ball and join 10 friends on the field to play the beautiful game of soccer," said Patrik Nilsson, adidas America President. "From cleats and balls to uniforms and fields, providing the right equipment and infrastructure is an important way we can inspire and enable an American soccer nation."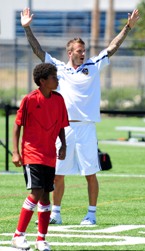 The partnership between adidas, MLS W.O.R.K.S. and FieldTurf supports the continued growth of soccer in the U.S. by providing grants to organizations to build synthetic fields. Five grants were awarded in 2009 to support new fields in Seattle, Los Angeles, New York, Milwaukee and Vancouver, Washington.
"MLS W.O.R.K.S. is proud to partner with adidas and FieldTurf to provide soccer players throughout the country with world-class soccer fields to call their own," said MLS Commissioner Don Garber, "The 'Footprint Fields' program provides young players the opportunity to enjoy the beautiful game. A few could rise up to the professional ranks like the Galaxy's Tristan Bowen and Chivas USA's Jorge Flores have done in the last two years, but all will benefit from these new fields."
Soccer stars David Beckham and Zinedine Zidane were on hand to support the 'Footprint Fields' program and share their soccer skills with kids who will benefit from these types of fields.
"I'm excited to be supporting the growth of the soccer at all levels," said Beckham in his first appearance since returning to the U.S. to play for his team the LA Galaxy. "Programs like the 'Footprint Fields,' as provided by adidas, MLS W.O.R.K.S and FieldTurf, is exactly what we need to give kids more places to play soccer."
Zidane made a surprise visit to some of America's top young soccer players earlier in the week at the adidas Elite Soccer Program in Denver. Today, Zidane celebrated the need to make the sport accessible to all kids who want to play.
"The importance of supporting youth soccer and growing the sport is my passion now that I'm retired from the professional level," said Zidane.
Designed to replicate individual blades of natural grass and soil, FieldTurf is an engineered layered system of sand and rubber that provides the optimum level of energy restitution, which is important for soccer where midfielders run approximately seven miles during a game.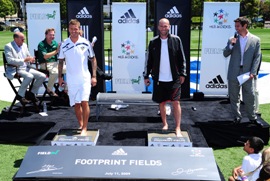 "It really is both exciting and rewarding for FieldTurf to have two world-class partners in adidas and MLS W.O.R.K.S.," said FieldTurf CEO, Joe Fields. "We all have a tremendous desire and responsibility to grow the great sport of soccer in the U.S., while doing all we can to ensure that kids in economically challenged areas have access to top-flight fields. 'Footprint Fields' will certainly go a long way in working towards that goal. There is no greater achievement than what you see here today — kids coming together to have fun and play the world's most popular sport on the greatest turf on earth."
"Footprint Fields" will create top quality, sustainable fields for kids to play year-round with less wear and tear and lower maintenance than grass.   FieldTurf continues to become more popular at the professional level with four MLS teams playing their home matches on FieldTurf.
"Footprint Field" grant applications for 2010 will be made available October 1, 2009 and managed by the U.S. Soccer Foundation. Visit www.ussoccerfoundation.org/grants for more information.
About adidas

adidas is a global designer, developer and marketer of athletic footwear, apparel and accessories with the mission to be the leading sports brand in the world. Brand adidas is part of the adidas Group, a corporation that includes brands such as Reebok, TaylorMade and Rockport. Some of the players in adidas' roster of athletes include: Zinedine Zidane, David Beckham, Kevin Garnett, Reggie Bush, Dwight Howard, Ryan Howard, and Allyson Felix.
About MLS W.O.R.K.S.
MLS W.O.R.K.S. was launched in April 2007 and is Major League Soccer's community outreach initiative dedicated to addressing important social issues affecting young people. MLS W.O.R.K.S. serves as a platform for both league and team philanthropic programs. Specific areas of focus include health and wellness, education, respect, fair play, leadership, human rights and diversity.
MLS W.O.R.K.S. seeks to establish Major League Soccer as a leader in America for improving the lives of people through sport. For more information about MLS W.O.R.K.S., please visit www.MLSnet.com/works.
About FieldTurf
FieldTurf offers industry leading engineering and manufacturing resources, unparalleled leasing and financing capabilities and leads the synthetic turf industry with regard to setting higher environmental standards. FieldTurf is the global market leader in terms of synthetic sports fields with over 3000 fields installed. FieldTurf is part of Tarkett Sports, a Division of the Tarkett Group.
Tarkett Sports is the largest entity in the sports and landscape surfacing industries. All Tarkett Sports surfaces are developed, produced and installed with a concentration on sustainability and a commitment to protecting the environment, providing additional LEED contribution opportunities for customers.
For more information, please visit www.fieldturf.com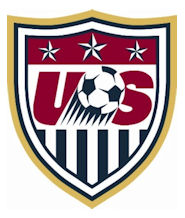 About U.S. Soccer Foundation
The U.S. Soccer Foundation was established in 1995 to manage the surplus funds generated by the 1994 FIFA World Cup held in the United States. The Major Charitable Arm of Soccer in the United States, the Foundation has provided $51 million in grants, financial support, and loans to help fund programs and projects in all 50 states. Hundreds of thousands of individuals have benefited from the Foundation's support. The mission of the Foundation is to improve the health and well-being of children in urban economically disadvantaged areas using soccer as a vehicle for social change. For more information, please visit www.ussoccerfoundation.org