LAGUNA HILLS (Source: Release)

The world's first ever urban lifestyle soccer brand is unveiling its newest design of street soccer shoes at Soccer Fanatic in Laguna Hills on Saturday, August 15 at 3:00 p.m. CALLE will also show off its patented street soccer ball that is made specifically to play with in the streets.
Calle – street in Spanish (pronounced KAI-yay) – is a movement promoting the streets as the fundamental training grounds for soccer. Founder Travis Winn, a Southern California native said that the best soccer players in the world come from the streets and CALLE is committed to providing an arena and lifestyle where players can improve their skills, express themselves, hang out with friends and turn their dreams into reality.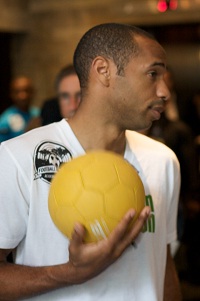 The shoe was designed like an indoor soccer shoe, built for touches on a ball; but intended to be worn outside every day. The shoes are made to double as every day footwear. The ball is designed to better resist the wear and tear of playing on hard, rough surfaces.
CALLE was founded by five students at Brigham Young University in their basement while attending school and playing semi-professional soccer. The company got its start in 2007 when it was awarded $52,000 as the first place winner at BYU's Marriott School's Business Competition. Fortune Small Business also named CALLE one of the top 3 Student Business Startups of 2007.
The CALLE movement is gaining momentum worldwide and among elite athletes like FC Barcelona's Thierry Henry, former US soccer captain Marcelo Balboa and Phoenix Sun basketball star Steve Nash. Players can visit calleunderground.com to chat with local players and find street soccer games in their area.
Admission to Saturday night's event is free and prizes will be given away to those that come out.
For more information about CALLE visit www.callerepublic.com. For event questions or to set up any interviews with CALLE contact Danny Mason, (CEO,CALLE) at 801.400.8779 or at danny.mason@callerepublic.com.