Soles4Souls and Clothes4Souls are wonderful charities.  Recently we received two announcements from them and wanted to share.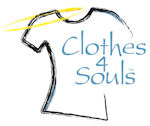 Nashville, TN 5/3/11 Clothes4Souls, a division of the Soles4Souls charity, has committed to bringing hope and dignity to the hurting through the gift of clothing. Millions of people worldwide are benefiting due to the generosity of our partners such as XCVI Fashion.
We couldn't think of a more worthy cause and organization. Our hearts and prayers go out to the people affected by the devastating tornadoes, said Daniela Zeltzer, XCVI.
"We are thankful to our friends at XCVI Fashion for recognizing the global need for clothing, and the importance of providing quality clothing to children and adults in need, said Wayne Elsey, Founder and CEO of Soles4Souls. Their donations will be used to bring hope to people around the world who can now look forward to a brighter day.
———————–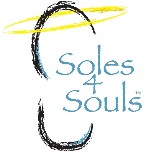 Nashville, TN 4/26/11 Soles4Souls Inc. has committed to collect and distribute 11 million shoes in 2011 to people living in extreme poverty and recovering from natural disasters through its 11 IN 11 campaign. The shoe charity provides one pair of shoes to a person in need every 7 seconds. Since 2005, Soles4Souls has distributed more than 13 million pairs of shoes because of the generosity and commitment of people and organizations like THE BIRTHDAY PRESENT 2050.
Soles4Souls believes partners like THE BIRTHDAY PRESENT 2050 will challenge others to become a force of change by helping the charity reach its aggressive but necessary 11 IN 11 goal which reflects the evolving needs of the global community. The shoe charity recognizes its success is the result of individuals and industry partners such as THE BIRTHDAY PRESENT 2050 who clean out closets and warehouses so that individuals around the world can have a better life through American s excess.
For a limited time, Soles4Souls and THE BIRTHDAY PRESENT 2050 will be collecting your new or gently worn footwear and/or donations to make a tangible difference through the gift of shoes. Every donation will support the charity's initiative to distribute 11 million pairs of shoes in 2011.
With tragedies such as the earthquakes in countries like Haiti and Japan, on top of the enormous needs elsewhere, we can use the estimated 1.5 billion shoes taking up space in the closets of ordinary people to change the world one pair at a time, said Founder and CEO of Soles4Souls, Wayne Elsey.
Elsey added, We need partners like THE BIRTHDAY PRESENT 2050 ?to get behind our 11 IN 11 campaign and get a little crazy this year. Donating shoes is one of the most simple yet profound acts you can do, because it will greatly improve someone s life in the most difficult of times.
The limited play runs from April 29 to May 22, 2011 ?8 p.m. on Friday and Saturday; Sundays , at 7 p.m. at the Skylight Theatre 1816 North Vermont , Los Angeles, Ca 90027 is a 99 seat theatre with GO from the LAWEEKLY, directed by famous producer Jonathan Sanger , winner of 3 Academy Awards and a current B Way Musical and THE Birthday Present 2050 in which shoeless children cause a society to change. The shoe collection will take place at the entrance of the theatre and be clearly marked.
People and companies interested in donating can visit the organization's website at www.giveshoes.org.
######
About Soles4Souls, Clothes4Souls, and Hope4Souls
Soles4Souls collects new shoes to give relief to the victims of abject suffering and collects used shoes to support micro-business efforts to eradicate poverty. Soles4Souls other two divisions, Clothes4Souls and Hope4Souls, provide the same relief and support through clothing and other necessities. Donating parties are eligible for tax advantages. Visit
www.giveshoes.org, www.clothes4souls.org, or www.hope4souls.org for more information.