Goal Keeper
News and information about soccer goal keeping gear.

Kurtis of Nebraska is one determined Goalkeeper.  AVID Soccer and Reusch are proud to crown him as our hero between the sticks.  Read how soccer helped put him through college and earned Kurtis a pair of Reusch Magno Deluxe M1 Ortho-Tec gloves.
This game has always been a part of me.  I was a one sport kid cutting every picture out of the Eurosport catalog and hanging it on my wall (especially the Americans).  Soccer was my passion growing up.  It was what defined me.  I can remember when calle [street soccer] first emerged in Utah, probably around my junior year of high school.  This was something that was perfectly in sync with my life philosophy.  My business is keeping the goal, but I have never been afraid to pull out the smooth rainbow on a defender in a street game, or nutmeg a striker trying to steal a goal on a back pass (ole'), or step up the spot and convert the 5th PK only to have the pressure of stopping the next shot for the win.  Nothing seems sweeter than duping players with my foot skill as they are outmaneuvered by the man with the gloves on.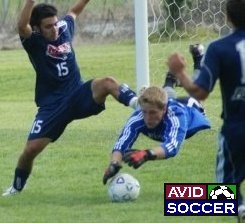 Trying to think of a specific story that was my most exciting or most memorable moment is pretty tough.  Some of the stories that come to mind are:
A run of great skill from my crew and I to the make final of the first annual Calle [Republic] tournament co-hosted by RSL, and miss out on being introduced at half time RSL game the next day
Upsetting 3 #1 seeds in the state tournament senior year of HS to make the final; winning two of the games in shoot-outs
Shutting out 5 straight victories to qualify for nationals in College and make it to the final 16 for the first time in school history only to loose 7-0 after a 1,690.45 mi bus ride. (that is right 1,690.45 I Map Quested it)
All great times; all memories I will carry for the rest of my life.  I am two weeks away from my soccer helping me pay for a college degree and facing the world without an organized team for the first time I can remember.  Soccer is just as much a part of me as it has ever been.  I will never stop!  Nothing can keep [me] from doing what I love.  I hope to have more heartbreaks and triumphs in the streets and on the pitch at every level of play.  NBD Never Back Down!!  GK UT=>NE  SLC=>OMA