Nashville, TN August 25, 2011 Soles4Souls, the international shoe charity, and California Footwear Company announced this week that a portion of the proceeds from every pair of shoes sold will be donated to the charity.  Soles4Souls provides shoes to people living in abject poverty or affected by natural disasters. The charity is able to provide a pair of shoes to someone in need for every dollar raised, with more than 15 million pairs of shoes
distributed presently.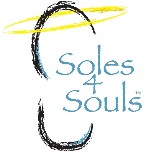 We are excited about our partnership with California Footwear Company and their giving back program, said Wayne Elsey, Founder and CEO of Soles4Souls. The simple gift of shoes can truly change someones life, and brands like California Footwear Company are making a huge impact on the international community with their long-term commitments to make a difference.
When we started California Footwear Company, we knew that our company would have a charitable aspect to it because we feel strongly about giving back, said David Bergum, co-owner and President of California Footwear Company. After all, our sandals and shoes make you feel good. Why not double that feeling by knowing you are helping others at the same time? Weve been looking for a partner with the right mix of relevancy, commitment, organization, and leadership.  Soles4Souls is the perfect match as they exceed our expectations in each of those criteria. They are truly making a difference in a meaningful way and we are very proud to be a part of their mission to help people in need, both here and abroad.
For more information on how to get involved, visit www.giveshoes.org and for a great pair of shoes that give to others, visit www.californiafootwearco.com.
###
About Soles4Souls®, Clothes4Souls®, and Hope4Souls™
Soles4Souls collects new shoes to give relief to the victims of abject suffering and collects used shoes to support micro-enterprise efforts to eradicate poverty. Soles4Souls other two divisions, Clothes4Souls and Hope4Souls, provide the same relief and support through clothing and other necessities. Donating parties are eligible for tax advantages. Visit www.giveshoes.org www.clothes4souls.org or www.hope4souls.org for more
information.
About California Footwear Co.
California Footwear Co. a Santa Rosa, California based company creates comfortable sandals, boots, shoes, and clogs that reflect the California lifestyle. California is a destination like no other. It is known for its focus
on health and well being, cutting-edge fashion, outdoor activities, and a connection with the people around them. Their mission is to combine all of the best that California represents into high-quality, affordable footwear for people who care about their foot health. Each of California Footwear Co. styles is named after a city, landmark, or beach that highlights a destination in this special state. Visit www.californiafootwearco.com for more information.