Herzogenaurach – The Predator has long been the standard by which all other boots are judged.  With the latest release, adidas tries to push the envelope again.  The 10th generation Predator was developed with the help of Zidane, both his finesse and control to the premier power boot.  adidas claims "His expert knowledge and attention to detail throughout the development process has lead to the most powerful boot ever made."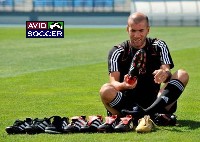 You can see Zidane testing the boot here.
Below is the official adidas press release about the boot.

Since 1994 when the Predator was first introduced the world's greatest soccer players have continuously laced up in the Predator confirming the title of #1soccer boot worldwide. And in 2009 legend Zinedine Zidane, a loyal Predator player, joined the ranks of the adidas design team in the creation of the tenth generation of Predator, otherwise known as "the perfect 10."
NEW PRODUCT FEATURES:
PowerSpine technology keeps mid-foot safe and stable
Inspired by adidas' Fingersave technology, first introduced in goalie gloves Provides up to 7% more power on the pitch
Ensures maximum stability during impact
Provides greater transfer of power to the ball while minimizing energy loss
Newly developed internal chassis construction holds the PowerSpine
Optifit upper construction engineered with a new soft compound
Provides the ultimate ergonomic performance fit
Results in ultimate swerve, maximum control and accuracy
Ideal for wet or dry weather conditions
X-Traxion outsole provides greater traction, comfort and stability
Designed to perform on both dry and wet, new-generation artificial grass
Taurus, a newly developed full-grain calf leather
Combines a natural look with high tearing and high abrasion features
Results in a high-end supreme-touch soccer performance
MSRP: $230
Website: www.shopadidas.com
Available: October 26, 2009