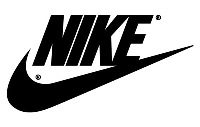 AVID Soccer and Nike want to present Don of California with a pair of Nike Mercurial Vapor SuperFly II boots for his dedication.  He is typical of the dedicated parent coaches that are at the heart of grassroots soccer in America.  In fact, Don is so dedicated that he asked us to send the boots for a player instead of himself.  Don titled his essay "Soccer: You've got to Love It Positively !!"
As a father of 3 boys, it was important to me to get them involved in athletics early in life through a variety of sports programs.  I taught them how to swim, and to play golf and tennis, but then I realized team sports are important too.  So I introduced them to the "All-American" sports of baseball and basketball and coached their youth teams.  However, it was AYSO soccer that was to become their favorite sport.
I asked them why they preferred soccer over other sports, especially baseball, and they told me they didn't like the "razzing" and heckling they got from the players and spectators and the criticism from their coaches.  Soccer was a positive experience and everyone plays.  This of course is the motto of AYSO soccer and the secret of their success.
I didn't know much about the game, but since my sons wanted to play soccer and they needed adult coaches; I was drawn into world of soccer.  I soon completed the beginning, intermediate, and advanced soccer coaches training.  The 3 day soccer camp for my advanced certificate was pretty intense, but I hung in there.  I learned a lot from experienced coaches and from the players during soccer practices and games during the season.  It was fun and I enjoyed being with my sons.
When my sons got older and went on to play club soccer and on high school teams, I thought I was done coaching.  That's when my eight year old daughter asked me, "Well, aren't you going to coach my soccer team, dad ?"  I forgot to mention my fourth child and only daughter.  Well, how could I say no to her.  She was brought up around the soccer field, and with three older brothers playing sports, she was a natural.
Coaching girls soccer was new to me and I learned quickly, very different.  Girls play with emotion, like the social interaction, and want to have FUN.  They are competitive, eager to learn, enjoy playing and having fun with their teammates on and off the field.  I had to be very positive in my coaching and watch for hurt feelings.  Rebuking at times but then showing more concern and interest in their success lest they become discouraged.  I never had so much fun coaching.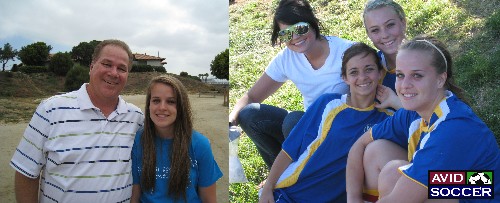 The girls always wanted to celebrate a team members birthday with cupcakes or ice-cream bars at practice.  Parents were very supportive of snacks at a game, yard sale fundraisers to pay for tournaments, pizza parties, and a swim party at my home during the season.  Of course, we always had a year end party to award trophies and for me to present and speak highly of each player in front of their parents, friends, and family.
Now I am completing my 25th year coaching soccer at 61 years of age and coaching my 18 year old daughter's U-19 team.  And although she has played four years of high school soccer and on the Varsity team, my daughter, Lindy, still wants to play AYSO with her many friends.  To the moms and dads that want to have a unique experience with their children, I have only one thing to pass on: The game of soccer, you've got to love it, positively!!