LONG BEACH, California (16 February 2011) – Part two of our coverage will introduce a few new vendors and the coaching clinics.  The coaching clinics are always good.  This year, CalSouth arranged for Fernando Rivera (Goalkeeper Trainer for the Mexican National Team), Tony Waiters (NSCAA Staff Coach), James Parry (former Youth Academy Coach at Liverpool FC), Klaus Pabst (Director of Coaching at FC Cologne), Curt Onalfo (LA Galaxy Assistant Coach), Randy Waldrum (University of Notre Dame Women's Head Coach), and others.
The coaching clinics have two parts.  The public part is held out on a pitch.  Each of the coaches runs a session populated by ODP players.  Coaches and other visitors can watch the demonstrations, take notes and pictures.  There are also lecture sessions.  These provide a great chance for real coaching education and are highly recommended.  Coaches like Klaus Pabst and Efrain Flores share real world professional experiences.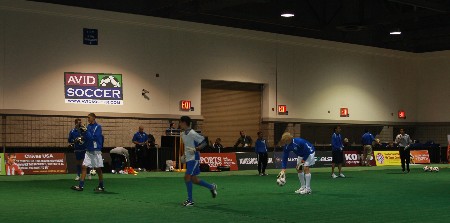 In addition to the coaching sessions, there are a variety of vendors and manufacturers at the expo.  We wanted to highlight a few newcomers that we met there.
First is Goalshot.  This is a fabric cover for the face of the goal mouth.  There are cut-outs at the corners encouraging players to shoot at the negative space and become more proficient at hitting the optimum locations.  This is a much more effective method of training that hanging cones or paper plates from the net.  Goalshot has impressed Kobe Jones and Jose Altadore enough to endorse the product.  Currently, only a full size goal is available, but other sizes are coming.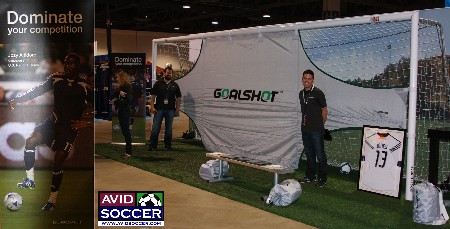 Another product that impressed us were Shock Sock.  The basic concept behind the product is similar to the Concave boot.  The sock puts a pad over the metatarsal bones of the foot.  This additional padding helps protect the top of the foot from some damage.  There are three varieties of sock: an ankle sock, a crew sock and a soccer sock.  Players interested in using the shock sock should try them with their boots, or bring them to try on boots as it will significantly change the fit.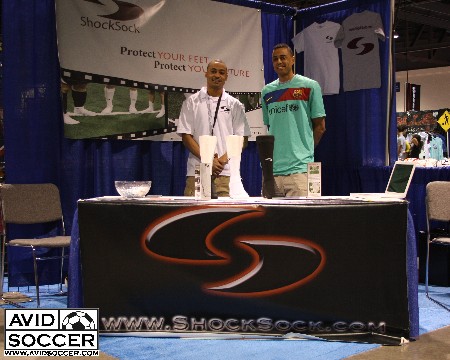 The last vendor we wanted to highlight is Bownet.  This is a new portable goal design based on tension.  The nets can be configured for indoor or outdoor use.  They are available in a full range of sizes and even applications for other sports.  There is not much to the goals, but they were strong enough to be used in all of the demonstrations.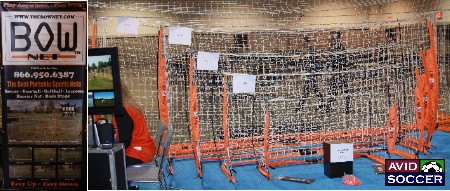 The expo was filled with other vendors from ESPN to K1 Go Karts to Marriott hotels, all hoping to get the attention of team mangers, coaches and players.  One last vendor that grabbed our attention was the Futboleros.  They offer both a freestyle soccer demonstration team and a game cage for 2 minute one-on-one grudge matches.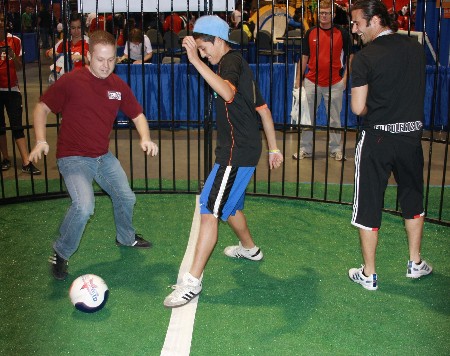 See more pictures from Soccer Nation Expo on the AVID Soccer Facebook page and check out a video of the Futboleros.