New York, NY (March 8, 2011) – Kicking & Screening (K&S), the world's premier international soccer film festival, announced today that the 3rd Annual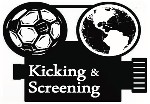 Kicking & Screening Soccer Film Festival will be held July 20 – 23, 2011 at the famous Tribeca Cinemas in New York City. The annual summer Festival also officially opened its call for submissions for filmmakers to submit soccer-inspired shorts and feature-length works.
Founded in April 2009, K&S was the first film festival in North America devoted exclusively to soccer. The success of the inaugural, sold-out K&S/New York Festival spurred not only the highly successful second annual K&S/New York Festival in 2010, but also satellite festivals in Washington, DC; Houston; North Adams, Mass.; and, most recently, Amsterdam. K&S has screened more than 30 films from over 14 countries, including seven U.S. premieres, and has attracted thousands of attendees from across the globe.
Starting today, filmmakers can submit entries for the 2011 K&S/New York by visiting: http://www.kickingandscreening.com/blog/submissions.html.
Important dates include:
April 20, 2011 – DEADLINE FOR SUBMISSIONS
June 6, 2011 – OFFICIAL FILM LINEUP ANNOUNCED; TICKETS GO ON SALE
July 20-23, 2011 – THIRD ANNUAL KICKING AND SCREENING FILM FESTIVAL
Additional planned 2011 Festival dates include K&S/Portland in April and K&S/London in September.
Kicking & Screening to Benefit Soccer Without Borders
K&S is dedicated to using the Festival as an agent of change. To that end, a portion of the proceeds from every K&S Festival is donated to local, socially conscious organizations using soccer to promote positive change in the world. The chosen social partner for K&S in 2011 is Soccer Without Borders (SWB).
Founded in 2008 by Ben Gucciardi, SWB is a nonprofit organization based in San Francisco that uses soccer as a vehicle for positive change in the lives of marginalized youth. SWB runs soccer-related programs in New York, Oakland, and Baltimore in the United States, and in Nicaragua, Argentina, Guatemala, and Uganda internationally. Programs consist of four elements: Soccer Play and Instruction; Training Coaches, Training Leaders; Life-Skills Education; and Themed Camps and Tournaments. For more information about Soccer Without Borders, visit http://www.soccerwithoutborders.org.
###
About Kicking & Screening
Founded in April 2009 by Greg Lalas and Rachel Markus, the Kicking & Screening (K&S) Soccer Film Festival is the world's premier international soccer film festival held in New York City every summer and features satellite festivals around the globe. Kicking & Screening's mission is to engage, connect, and inspire soccer and film enthusiasts through the celebration and presentation of soccer culture. Dedicated to showcasing the best soccer cultural events, K&S provides a forum for soccer-inspired filmmakers, artists, and writers to showcase their work and bring attention to this under-appreciated, emerging genre. For more information, visit: http://www.kickingandscreening.com.