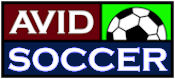 LOS ANGELES, California (31 January 2011) – 2010 was an amazing year in football.  There is a new World Cup winner, playing on a new Continent.  The game advanced through technique, tactics and technology.  The USA National Team provided a Star Spangled Banner feeling as they weathered multiple poor starts only draw or win through the early rounds.
Final verse of the Star Spangled Banner:
Oh! thus be it ever, when freemen shall stand
Between their loved home and the war's desolation!
Blest with victory and peace, may the heav'n rescued land
Praise the Power that hath made and preserved us a nation.
Then conquer we must, when our cause it is just,
And this be our motto: "In God is our trust."
And the star-spangled banner in triumph shall wave
O'er the land of the free and the home of the brave!
On the gear front, it was an equally exciting year.  AVID Soccer had the chance to test gear from most of the major manufacturers and many smaller ones.  ASER tested products as diverse as the Microsoft Kinect to the Jabulani ball to a Chelsea anniversary scarf.  The best rose to the top and now receive their accolades.
Winners were selected in five categories:
Best Boot Nominees:
Puma PWR-C 1.10
Nike Mercurial Vapor Superfly II
Pele Sports 1962 (Value Boot of the Year)
adidas Predator X TRX (Boot of the Year)
Best Ball Nominees:
Wilson Avanti NCAA Official Ball
Select Brilliant Superball
Nike Total90 Tracer
adidas Jabulani/Jo'bulani World Cup Ball (Best Ball Winner)
Best Kit Nominees:
Nike Serbia National Team Kit
Puma Côte d'Ivoire National Team Kit
Nike Netherlands National Team Kit
adidas Spain National Team Kit (Best Kit Winner)
Best Lifestyle Product Nominees:
Pele Sports Track Jacket
EA Sports FIFA 2011
Microsoft Windows Phone
Puma Project Pink WPS Jersey (Winner Best Lifestyle Product)
Innovative Product of the Year Nominees:
Microsoft Kinect
TactX Training Animation System
adidas miCoach Training System (Winner Innovative Product of the Year)
ASER would like to congratulate all of the nominees and winners of this years awards.  All of the testers and readers are looking forward to what 2011 will bring.